5 Essential Tips For Leveraging LinkedIn As A Consultant
In today's day and age, there is one platform that reigns supreme in the professional world and establishes itself as a force to be reckoned with — and it is none other than LinkedIn. With millions of active users on a daily basis, the social media behemoth simplifies the process of expanding your network and maximizing your reach for comprehensive growth. 
Today, LinkedIn allows consultants like you to build meaningful connections and develop solid relationships with high-profile professionals. Essentially the key to unparalleled lead generation and a formidable clientele, the platform bestows upon you the opportunity to showcase your expertise to others and establish trust in your niche.
By delving into the vast depths of LinkedIn and using its array of features to the best of your abilities, you can find numerous target prospects in need of your services — and from that point onward, you can expect revenue and success like never before. 
LinkedIn is the Key to Maximizing Your Reach and Advancing in the Professional World Today
As a consultant, your biggest objective is to utilize your skills and experience to their maximum potential and provide professional advice to ambitious organizations and individuals in the field of your choice. In order to offer such beneficial guidance and thrive as a consulting firm, it is important for you to leverage LinkedIn with the utmost rigor and share your ideas with the rest of the world. 
Wondering how exactly you can use the social media channel to grow? Read ahead for a series of crucial tips — and witness prosperity like never before.
Optimize Your LinkedIn Profile
To put it simply, the significance of developing and maintaining a captivating LinkedIn profile cannot be stressed enough. For starters, it is important for you to address the basics: 
Fill out all of the requisite information fields, and integrate a professional photo. 

Choose an eye-catching headline to describe your role to the masses. Explain your distinct capabilities in a concise manner — and make sure to avoid jargon.

Share further information about your consulting business and the intricacies of your professional story in your profile summary. Don't hesitate to include small details — and emphasize key career accomplishments while you're at it. 

To build additional credibility, upload exciting content of your own to your summary — and exhibit the sheer value of your consulting services to endless potential clients. Show, don't tell.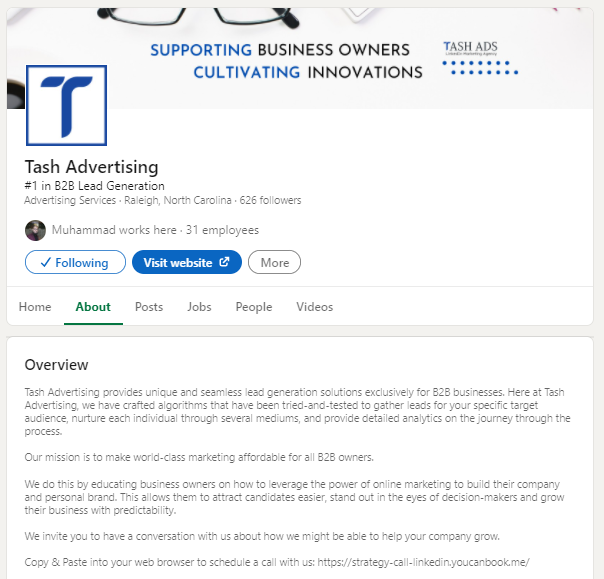 Tash Ads Business Profile
Consistently Keep in Touch With Old Clients to Establish Credibility 
What better way to thrive as a consultant than by maintaining lifelong relationships with old clients? Considering the fact that these individuals greatly contributed to the success of your business in the past, it is no secret that they can have additional positive effects in the future as well. 
By adding previous clients to your network, you can then strike up conversations with them in the future and find opportunities to do business yet again. Furthermore, you can also request endorsements in order to enhance your LinkedIn profile and establish the sort of credibility that is guaranteed to turn some heads.
As you engage, reach out, and leave comments, you are sure to not only retain current clients but also intrigue new prospects. Maintain consistency in all that you do to have prospects knocking at your door.
Add and Actively Interact With New Connections to Build Trust
Chances are, you've come across a fair share of professional contacts, the essence of which can be found in the dozens of business cards scattered in your drawer. In order to generate leads and experience tremendous growth as a consulting firm, consider adding every single one of these individuals on LinkedIn. Because the social media platform makes staying in contact with others easier than ever before, you can now easily view other profiles to gain substantial insight.
Eventually, you're bound to come across the ideal person to do business with. Additionally, as you actively engage with posts by your recent 1st-degree connections, you might also be introduced to 2nd-degree connections in need of your consulting expertise. Evidently, the benefits of leveraging LinkedIn to tap into a vast network are endless. 
Join LinkedIn Groups to Find Potential Clients
If you're looking to generate a significant amount of leads and increase your reach to an incredible extent, it is beneficial to join an array of relevant LinkedIn groups. In order to find communities of like-minded individuals, click on the search bar, press the "groups" tab, and hunt for groups of your liking. Upon officially becoming a member, you can then use this perfect platform to not only gain insight into the latest industry trends but also distribute your knowledge and lend a helping hand to those in need of a consulting guru like you.
As you produce informational content and share it with the rest of the group to solidify your presence in the niche, you're guaranteed to attract attention and receive messages from clients interested in acquiring your services. As always, engagement is the key — so make sure to comment on other people's posts and frequently engage with them to initiate striking conversations. Remain active in the groups to verify your dominance as a consulting business in the industry.
Leverage the LinkedIn Sales Navigator and Publishing Tools 
The beauty of LinkedIn lies in its plethora of exhilarating features for users to utilize. For instance, the LinkedIn Sales Navigator serves as a game-changer by letting you effortlessly find as many prospects as you need. To elaborate, the tool grants you access to the entire database and provides you with the opportunity to find clients using a range of crucial search filters.
As you thoroughly browse the results and view the displayed profiles, feel free to send connection requests to those who catch your eye for tremendous business growth. With access to 20 InMails per month, you can also deliver your message to an individual that is not in your network. Moreover, LinkedIn Publishing is another vital tool that allows you to create and post articles with multimedia. 
Essentially, the publishing platform gives you increased exposure for awe-inspiring business development. In order to position yourself as an industry leader and be of interest to your target audience, choose meaningful topics that emphasize the value of your services. Needless to say, take full advantage of these tools to thrive as a modern-day consultant. 

Tash Ads is the Gateway to Remarkable LinkedIn Lead Generation 
Do you need further assistance in the domain of LinkedIn lead generation? Are you in need of services that leverage digital marketing to help your consulting firm reach new heights of success? Tash Ads is here to help! Our team of experts specializes in creating a consistent pipeline of high-quality leads into your consulting business every single month. Yes, you heard that right!
It gets even better. We generate fresh leads, but we also leave no stone unturned in converting them into long-time clients that instantly think of you when they're in need of a stellar consultant. The thing is, we are a results-driven agency — and we use an abundance of tried-and-tested methods to ensure impressive outcomes for you. When you come to work with us, we'll develop a digital blueprint that is guaranteed to help you dominate the market in your niche. At Tash Ads, we vow to live up to our promises.
Ready to leverage the immense power of LinkedIn to grow as a consultant and obtain profound success and revenue? Give us a call for extraordinary lead generation — and take your consulting business to the next level! 
Explode your online presence today. 
The Recruitmore® System Gives Everyday Recruiters the 
FASTEST
 Method to Fill Your Pipeline (and Schedule) with Decision Makers/Hiring Managers Without Ever Having To Cold-Call Again