How Recruiters Can Use the LinkedIn Sales Navigator to Effectively Build Their Candidate Pipeline
Are you an eager individual whose holy grail is to assist various companies in the process of finding potential employees? Do you wish to use your skills and expertise to find qualified candidates that meet the criteria for those job positions, but you find yourself wondering how exactly you can effortlessly multiply your candidate pipeline? This is where the LinkedIn Sales Navigator comes into play! 
What is the LinkedIn Sales Navigator — and How Does It Help?
LinkedIn Sales Navigator is a prospecting tool that enables you to tap into the vast depths of LinkedIn's network and close more deals, the LinkedIn Sales Navigator is available in three pricing tiers: 
Core

Advanced

Advanced Plus
In order to determine which one is ideal for the goals of your recruitment firm, feel free to take advantage of the free trial. 
Regardless of which particular plan you choose, the Sales Navigator plays an instrumental role in strengthening your talent acquisition strategy. By allowing you to have access to additional features — features that aren't available for regular users — the resource ensures that you are able to successfully generate sales and find potential hires. 
For starters, considering the fact that LinkedIn's colossal platform is home to millions of users, the Sales Navigator naturally paves the way for you to reach a plethora of qualified candidates. To add to that, the tool allows you to use advanced search filters, thus granting you the option to actively hunt for candidates on the basis of keywords or factors like location and industry.
Not only that, it grants you access to the InMail feature and thus increases your chances of connecting with promising candidates outside of your current network. It gets even better. The LinkedIn Sales Navigator allows you to see who's viewed your profile and also receive real-time updates for your convenience. Needless to say, the resource is one you should employ for optimal results.
Intrigued by the exciting promises and possibilities of the LinkedIn Sales Navigator but not sure how to capture the attention of the platform's gigantic pool of candidates? Allow us to help! 
TashAds is here to guide you every step of the way and provide you with the tips needed to utilize the Sales Navigator to its maximum potential. By the end of this blog, we guarantee that you'll have the knowledge to develop a talent recruitment strategy like never before. Read ahead to know how you can make full use of this tool — and see how such a proactive approach transforms life as you know it!
Build an Outstanding Company Profile that Attracts Candidates
To begin with, it is incredibly crucial for you to effectively build and update your company profile for desirable outcomes. Let's be real. The competition among recruiters on such an enormous social media channel is intense — so it is imperative that you polish your page to appeal to potential candidates.
Now you might be wondering, how do I do that? Begin by covering the basics: 
upload a banner

write a captivating About section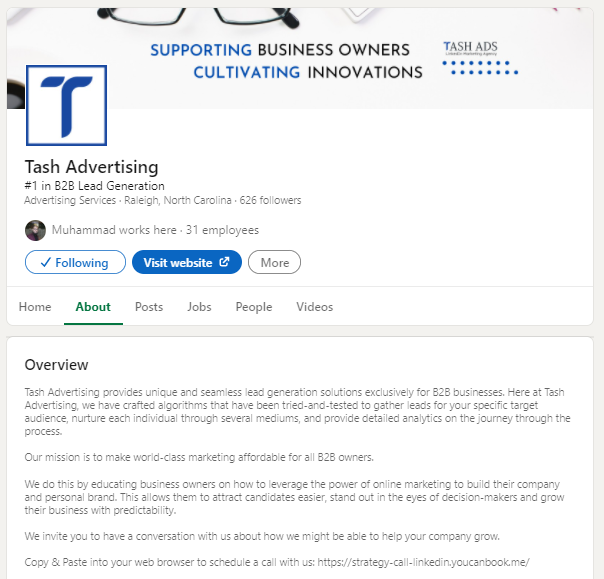 Tash Ads Business Profile
Once you've gotten those out of the way, make an active effort to integrate your values as a recruiter into your profile. Today, a firm's culture has a tremendous impact on aspiring employees — so it is important for you to make a strong, professional impression in order to increase the likelihood of new prospects viewing your profile. Upon noticing how your core beliefs align with theirs, wait and watch as these clients approach you themselves!
Make Full Use of Advanced Search Filters
Though the regular version of LinkedIn allows you to look for candidates, the Sales Navigator undoubtedly enhances the search to a great degree. In order to reduce the time it takes to hire new prospects, apply an array of filters to refine the hunt as much as possible. Consider narrowing your search based on job functions for incredibly specific results. 
Use the Boolean search:
Additionally, try using the boolean search — a feature that focuses on using words like "and" and "or" to fine-tune your list. 
Here's how it works:
And searches: This type of search will allow you to find candidates who match two or more criteria. For example Finance and Accountant.

Or searches: This type of search will allow you to find candidates who match one or more criteria. For examples Sales or Marketing.

Not searches: This type of search will allow you to exclude a candidate from the search results. For example Sales Not Managers.
As a result of these efforts, you'll be in a better position to fill candidate openings and on the way to prosperity. 
Establish Custom Lists and Turn On Notifications 
In order to effectively keep track of all potential candidates, don't forget to create custom lists as well. To elaborate, these lists help you organize prospects who match your ideal candidate criteria. On top of that, make sure to turn on your notifications in order to receive crucial, relevant updates.
By getting alerts regarding the likes of company layoffs, profile views, and prospect profile updates, you're bound to find an increasingly large number of prospects and eventually attain the sort of prosperity that'll have the world watching. 
Integrate It With Your CRM
Wondering how you can strengthen the power of the LinkedIn Sales Navigator? Combine it with your customer relationship management (CRM) technology! If you possess a Team or Enterprise account, you can bid goodbye to the troubles and hassles that come with switching between different applications
Now, you can manage all of your prospects from the dashboard of your CRM and even send InMail messages to your candidates, effectively keeping track of everything all the while. Yes, it really is that wonderful. You can also integrate your company's business process management in order to lend a helping hand to your HR department and save precious time. Success is just a few clicks away.
Use the Helpful TeamLink Feature
We know that it can be difficult to develop meaningful, long-lasting connections with new candidates. If you find yourself dealing with such predicaments, use the TeamLink feature to warm up to prospects. By enabling you to browse your entire network for a mutual connection who can introduce you to the right people, this tool is the key to building solid relationships.
Consider showing potential candidates valuable, informational webinars to break the ice — and also make sure to engage with your pipeline every step of the way. It's the little things that count. 

Contact TashAds for Sensational LinkedIn Lead Generation!
As a recruiter, do you need further assistance when it comes to successfully building a candidate pipeline? Are you in need of experts who possess profound LinkedIn-based skills and knowledge? You've come to the right place! At TashAds, we aim to help aspiring individuals like you develop an unparalleled digital blueprint for complete and utter domination in the industry. 
The thing is, we are a results-driven agency with seamless solutions and tried-and-tested methods for all of your recruiting needs — so you can count on us to master the art of the LinkedIn Sales Navigator in order to help you grow. At our very core, you remain our top priority.
Are you looking to generate high-quality leads in an incredibly short amount of time? Contact TashAds today to execute the ideal social media campaign and acquire remarkable LinkedIn-oriented services!
The Recruitmore® System Gives Everyday Recruiters the 
FASTEST
 Method to Fill Your Pipeline (and Schedule) with Decision Makers/Hiring Managers Without Ever Having To Cold-Call Again