LinkedIn Recruiter's Key Features That Will Help You Find Candidates Effectively
Currently, you might be finding yourself in need of effective techniques for prospect recruitment. We understand just how vital these candidates are to your overall success — and we want nothing more than to help you find suitable individuals to fit your role and/or company. 
Let's be real, recruitment in an immensely competitive world — a market plagued by the constraints of time and money — is no easy task. In all honesty, finding the right hires can be a rather taxing chore — and it is this very problem that LinkedIn Recruiter aims to address.  
What is LinkedIn Recruiter — and Why is it Valuable?
LinkedIn Recruiter is similar to Linkedin Sales Navigator but its utilization is restricted to recruiters only. Essentially the key to efficient, rapid recruitment, LinkedIn Recruiter is a paid tool that allows you to both identify and reach out to potential prospects. Thanks to an array of crucial features, it simplifies the hiring process like never before and paves the way for phenomenal prosperity. To be more specific, LinkedIn Recruiter contains advanced filters and smarter search options to ensure that you find and prioritize candidates with the ideal titles and skills for your particular role. 
Additionally, the valuable tool takes into consideration your precious time by allowing you to utilize saved searches and the bulk messaging option to reach out to prospects more quicker. But wait — it gets even better. LinkedIn Recruiter sends you constant alerts and makes sure that you're able to both collaborate with ease and track your performance analytically. By granting you the power to effortlessly manage your pipeline and measure your progress, the tool is undoubtedly the key to desirable recruitment results. 
Wondering how exactly LinkedIn Recruiter is able to transform recruitment as you know it? You've come to the right place! By providing you with access to a potential talent pool, the irreplaceable tool serves as the gateway to fantastic hires. You, too, can easily discover candidates outside of your network to benefit you in ways more than one. Read ahead to learn more about what exactly LinkedIn Recruiter has to offer — and see how these features are undeniable game-changers.
Candidate Profile Recommendations Let You Fill Roles Rapidly 
Finding the right candidates has never been easier. Home to numerous calculated candidate suggestions, LinkedIn Recruiter allows you to fill your roles more rapidly than ever before. Essentially, the tool contains five pages with remarkable prospect recommendations: 
People You May Want to Hire

Similar Profiles

Profile Matches For Your Posted Jobs

Suggested Professionals

People Also Viewed
Talent Updates Allow You to Share Targeted Statuses to Nurture Prospects
Thanks to LinkedIn Recruiter, it is possible for you to effortlessly communicate and subsequently recruit candidates through the LinkedIn update stream. To elaborate, Talent Updates allow you to share status updates with exciting content such as blog posts and employee videos. 
The next time a follower or potential candidate visits the social media platform, they will instantly notice your updates on their feed and share their content with their connections, subsequently increasing your visibility to a great degree. That's not all. The tool also lets you make note of which followers interact with your updates, thus allowing you to add them to your talent pipeline for a greater chance of finding the right hires. Nurture potential prospects to reach new heights of success today!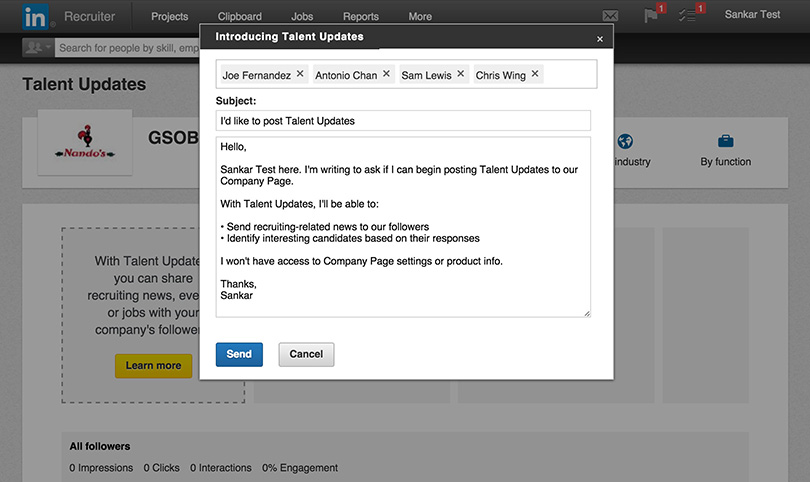 The "Update Me" Feature Notifies You of Profile Changes and Contributes to Timely Engagement
On the regular, LinkedIn's millions of members make several important updates to their public profiles. Needless to say, it can be rather difficult to keep track of all the little additions and revisions — so what do you do? You press "Update Me" to monitor the trajectory and accomplishments of your prospects. 
To elaborate, the feature notifies you when potential candidates make even the most minuscule changes to their pages and provides you with the sort of visibility that converts simple leads into incredibly qualified hires. 
The Connection Path Sheds Light on Candidate Connections and Fitment
Determining whether an interesting prospect can serve as the perfect fit for your role is essential to your success as a recruiter — and it is this very need that the Connection Path module aims to fulfill. Comprised of the "Your Connections" and "Your Coworkers" tabs, the feature provides the sort of visibility needed to gauge an array of talented candidates. 
Your Connections: To elaborate, this module allows you to assess how you may be connected to the profile of your choice and gain further knowledge about your prospect. This could be your first-degree pr second-degree connection.

Your Coworkers: This tab on your profile page suggests coworkers at the individual's previous company or academic institution and provides the sort of unparalleled insights needed to excel during the recruiting process. 
InMail Recipient Insights Present Data That Allows You to Personalize Messages and Leads to Higher Response Rates
The importance of establishing meaningful connections cannot be emphasized enough. Thanks to LinkedIn Recruiter's InMail Recipient Insights, it is now easier than ever for you to send personalized messages to potential candidates. Essentially, the tool provides crucial data on common ground and sheds light on the likes of mutual connections and LinkedIn groups. By referring to a commonly shared past employer or group, you're undoubtedly more likely to receive the sort of quick, positive response you're looking for. Make sure to leverage these tips for admirable recruitment progress!

Tash Ads is the Key to Unimaginable, Inspirational Success on LinkedIn
If you find yourself in need of assistance from professionals who prioritize your recruiting success above all else, Tash Ads is the answer to all of your prayers! Here, we understand just how extensive and troubling the hiring process can be — and we wish to help you find and contact the ideal candidates for your roles. 
Our team of experts specializes in Linkedin Marketing — and we leave no stone unturned in utilizing the all-too-important LinkedIn Recruiter for desirable outcomes. When you work with us, you need not worry about lead generation one bit. At our very core, we strive to bring a consistent pipeline of high-quality leads every single month and present seamless solutions to any potential problems. Enlist the help of Tash Ads' incredible, results-driven LinkedIn-oriented services today.
Ready to find suitable prospects for your roles and receive excellent assistance during the recruiting process? Call Tash Ads to grow tremendously and remain one step ahead of your competitors! We make full use of LinkedIn Recruiter to ensure that you are able to identify, nurture, and communicate with your prospects — effortlessly. 
The Recruitmore® System Gives Everyday Recruiters the 
FASTEST
 Method to Fill Your Pipeline (and Schedule) with Decision Makers/Hiring Managers Without Ever Having To Cold-Call Again